Have a look at our new affiliate program and all it has to offer! We have introduced a program that allows you to earn while spreading the word about our products. If you want to apply for our program, you can sign up here.
Here's how it works
You can share your custom link with your networks and help us on our journey — all while earning a commission for yourself!
There are three simple steps:
Apply: Apply to our affiliate program and get access to a number of offers for your network — CrazyTopup Affiliate Program
Share: Use the offers on your website, blog, or social channels to generate traffic within a 30-day cookie window.
Earn: Earn commission on your referral after someone make's a purchase using your affiliate link. You earn 1% of their total order value.
There are no limits on the number of people you can refer, the amount of commission you can make, or the number of times you can share the link!
How will I track everything?
We use in-house affiliate software to help you on your affiliate journey with us. You get a  personalized dashboard that allows you to access information about your tracking clicks, earnings, available offers, and marketing materials, as well as a direct line to your account manager.
The affiliate dashboard gives you total visibility and transparency into what you have earned, visits, creatives, and payout from your account.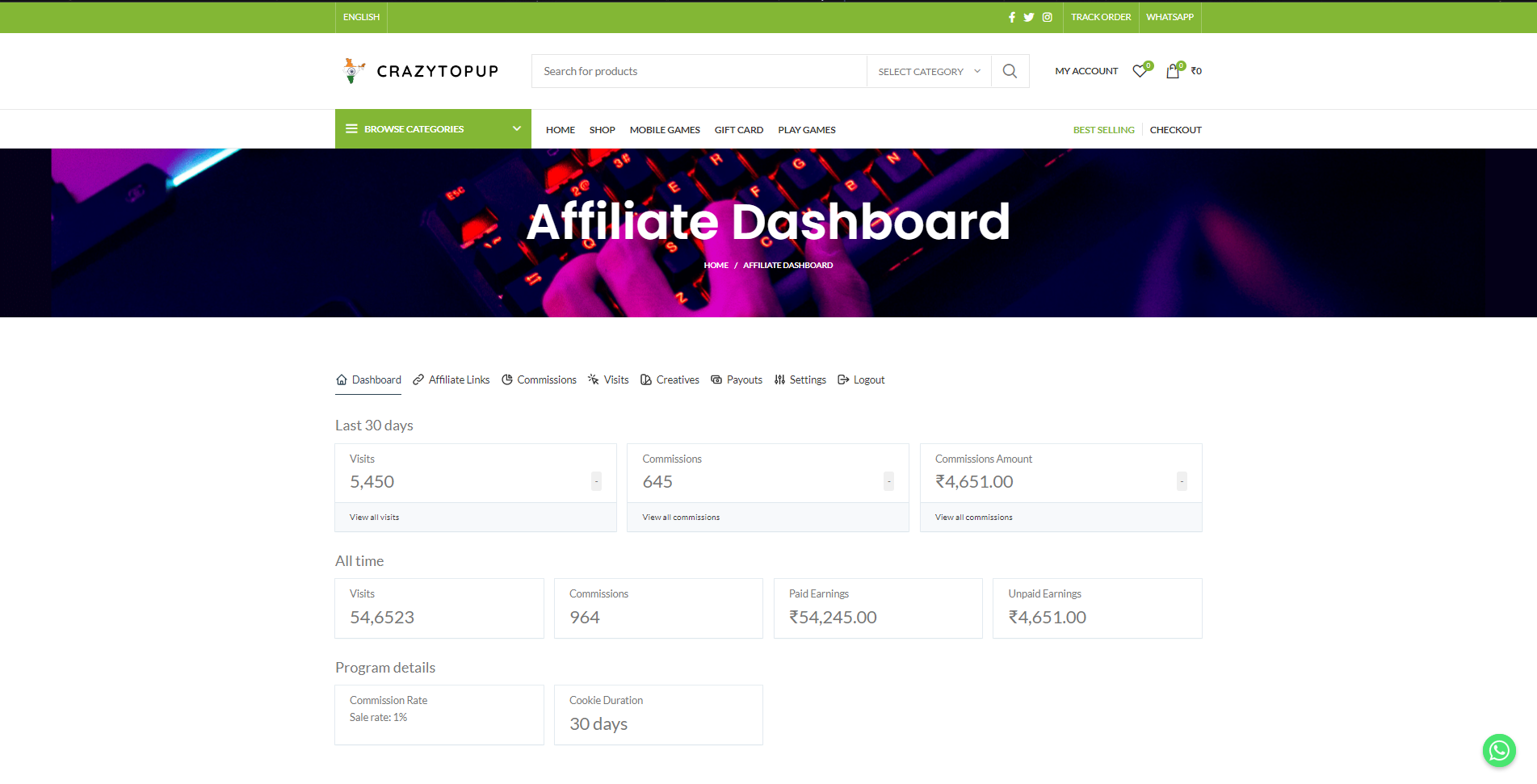 How will I get paid?

Currently we are paying our affiliates through PayPal once they have earned minimum of 100 INR through commission. Once it's approved, you will get they money into your PayPal account on the 1st of every month.
So is there anything I can't do?
Before you start promoting us, there are a few terms and conditions to bear in mind:
The use of paid search or paid social adverts on any website or platform is prohibited.
You cannot refer yourself to earn commissions.
Don't modify the creatives provided by us, but your can make your own.
Don't represent yourself as CrazyTopup employee
You can see the full T&Cs – Affiliate Terms and Conditions
Know more about our affiliate program & FAQ's – CrazyTopup Affiliate Program
If you have any questions comment below or contact us via [email protected]